EXPERIMENT NO.6
TITLE: FREQUENCY RESPONSE OF A FILTER FOR GIVEN ORDER (LPF, HPF, BPF AND BSF).
THEORY:–
1) Low-Pass Filters:-
By definition, a low pass filter is a CKT offering easy passage to high frequency signals. There are two basic kinds of ckts capable of accomplishing this objective and many variations of each one. The inductive low pass filter is given below.
The inductor's impedance increases with increasing frequency. The high impedance in series tends to block high frequency signals from getting to the load.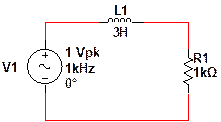 Inductive LPF
2) High –Pass Filters:-
A high pass filter's task is just the opposite of a low pass filter: to offer easy passage of a high frequency signal and difficult passage to low frequency signal. As one might expect, the inductive and capacitive versions of the high pass filter are just the opposite of their respective low pass filter design.
Capacitive HPF
3) Band –Pass Filters:–
There are applications where a particular band or spread or frequencies need to be filtered from a wider range of mixed signals-filter ckts can be designed to accomplish this task by combining the properties of Low pass and high pass into a single filter. The result is called a band pass filter.

Capacitive BPF
What emerges from the series combination of these two filter ckts is a ckt that will only allow passage of those frequencies that are neither too high nor too low. Using real components, Schematic dig. is shown.
4) Band –Stop Filters:-
Also called band limitation or catch filters, this kind of filter passes all frequencies above and below a particular range set by the component values. It can be made out of a LPF. And HPF just like the band pass design, expect that we connect the two filters in parallel with each other.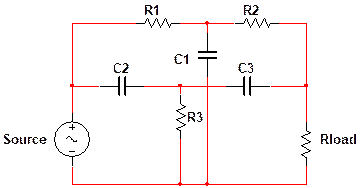 "Twin T" band stop filter
The LPF Section is comprised of R1 R2 and C1 in a "T" configuration. The high pass filter Section is comprised of C2, C3 and R3 in a "T" configuration as well. Together, this arrangement is commonly known as a "Twin-T" filter, giving sharp response when the component values are chosen in the following rations
Component value ratio –
R1= R2=2(R3)
C2 =C3= (0.5) C1
Given these component rations, the frequency of maximum rejection (the "notch frequency") can be calculated as –
f(notch)=1/(4Ï€R3C3)
CONCLUSION:-